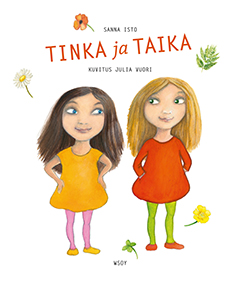 Illustrator(s)
Julia Vuori
Publication date
2011
Publisher
WSOy
Format info
175pages, colour illustrated
Tinka and Taika
Tinka ja Taika
Winner of the 2011 Arvid Lydecken Prize!
When Tinka and Taika's grandmother comes to visit, the house is suddenly flooded with secrets. At times Grandma's trunk is heavy as a rock; at others, it's as light as a feather. The plucky girls undertake to solve the mystery that's vexing them: is Grandma a witch and does that make them witch's grand-daughters?
Sanna Isto's debut is a sunny, spell-binding children's novel. Julia Vuori's glowing illustrations accentuate the book's magic, beguiling children into reading further.
Series
Tinka & Taika, 2011
Tinka & Taika: The Secret of the Witching Grass, 2013
Tinka and Taika: The Forbidden Forest, 2015
Prizes and nominations
2011, winner of the Arvid Lydecken Prize
Reviews
"Julia Vuori's illustrations give the book a fairytale lift. The perfect amount of mischief and merrymaking can be seen in Tinka's and Taika's eyes. At the best moments, Vuori also revels in the shifts in scale and flights of fancy characteristic of nonsense stories. The illustrations leave the reader with plenty of room for their own imagination." — Helsingin Sanomat newspaper