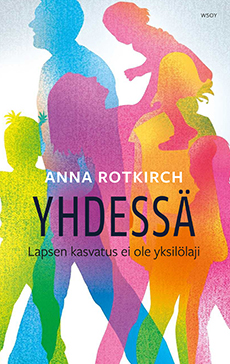 Publication date
2014
Publisher
WSOY
Format info
270 pages
Together. The Ups and Downs of Family Life
Yhdessä. Lapsen kasvatus ei ole yksilölaji
  Why is something so wonderful sometimes so hard?
A book that will bring relief, good tips and new insight into the daily life of families with children.
Why mothers do not enjoy their time alone by the sand box? What is the father's role? Why do siblings fight?
This book gives a fresh insight into the age-old myths about family life and relationships, while also showcasing the surprising ways of how our species is still primarily led by its evolutional traits when faced with the demands of the modern life. Through the relevant roles in family, from childhood into grandparenthood, professor Anna Rotkirch combines research with personal observations in the most delicious way in sharing her advice and encouragement.
Rights sold
Swedish (S&S, Finland)
Reading material
Finnish edition
Swedish edition