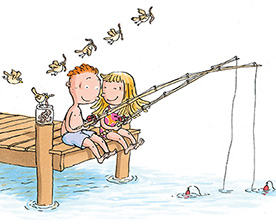 Illustrator(s)
Christel Rönns
Publication date
Publisher
Tammi Publishers
Format info
Wills & Nelli Series
Risto Räppääjä
The WILLS & NELLI series is fun, often mysterious and never dull. There are already 16 bestselling Wills & Nelli books and the stories' success in Finland is immense. Wills&Nelli books have been adapted into plays, musicals, an animation and five full-length feature films, all of which have been major box office hits.
Wills McFinn's mum is an archeologist and is away on digs for such lenghts of time that Wills lives with his Aunt Rose. Wills is a gentle, kind-spirited boy ( ~10 years old) and has occasional bouts of self doubt and insecurity, especially if anything makes him worry about his friendship with Nelli who is his best friend. He loves writing and singing his own rap songs.
Nelli Butterfly lives in the same apartment building as Wills. Her parents Boris and Blossom Butterfly are tv-chefs and celebrities. Nelli is a good and thoughtful friend to Wills, and is often the one to come up with smart solutions to pressing issues.
Rose McFinn is Wills' Aunt and her actions are always ruled by her compassionate heart rather than something more sensible. Rose often gets the wrong end of the stick and her ideas tend to get out of hand. She has tender feelings for their downstairs neighbour Mr Alfred Lindberg who fully reciprocates and this ensures that he is always at hand to help Rose, and Wills, and Nelli, most of the time against his own better judgement. But you'd never hear Alfred saying no to the lovely Rose. Alfred is not a macho man by any stretch of the imagination but rather the stamp-collecting variety – and with a kind and caring demeanour of a long-standing bachelor.
Rights sold
Arabic
Brazil (World Portuguese)
Bulgaria
China(Simplified)
Denmark
Estonia
Finnish
France
Hungary
Japan
Latvia
Lithuania
Poland
Slovenia
Spain (World Spanish)
Sweden
Turkey