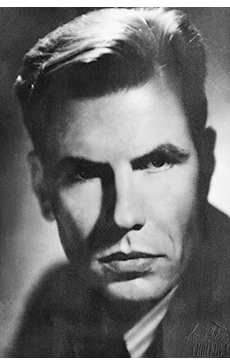 Lauri Viita
The poet and novelist Lauri Viita (1916–1965) was born in Tampere and worked as a carpenter before becoming a full-time writer. He published four collections of poems – of which the first, Betonimylläri ('Concrete Mixer', 1947), made his name as a skilful builder of rhymes and rhythm – as well as two novels.
The partly autobiographical novel Moreeni ('Moraine', 1950, translated also into German, Hungarian, Polish and Swedish) is the story of a working-class family living in Tampere in the first decades of the 20th century. It became a classic soon after it was published.
Works
Concrete Mixer (Betonimylläri, poems, 1947)
Kukunor (fairytale poems, 1949)
Moraine (Moreeni, novel, 1950)
Crooked (Käppyräinen, poems, 1954)
And the Cobbler, Great Wise Man (Suutarikin, suuri viisas, poems and prose, 1961)
So what, Leevi (Entäs sitten, Leevi, novel, 1965)
An essay on Lauri Viita and other Finnish working class authors by literary critic Pekka Tarkka  and selection of Lauri Viita's poems translated by Herbert Lomas can be read in the online journal Books from Finland.