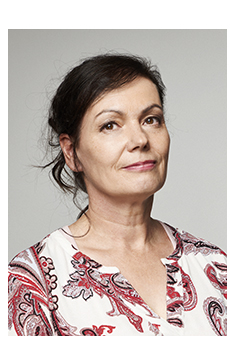 Satu Vasantola
Satu Vasantola (b. 1965) has worked as an editor-in-chief in several Finnish magazines and is currently a staff editor of the Sunday supplement to Helsingin Sanomat, Finland's largest daily. She started her career in Helsingin Sanomat when the newspaper was planning to move from broadsheet to tabloid and she was invited to plan and start a new Thursday supplement.
Vasantola holds Master of Social Sciences (Major: Communication) from the University of Helsinki. She has also studied Communication and Social Sciences at the University of Illinois, USA and in 2015 she obtained a sholarship from the Helsingin Sanomat Foundation to study at The Reuters Institute for the Study of Journalism, a globally focused research centre at the University of Oxford, UK, where she began to write her debut novel (Never) Going Back.
Satu Vasantola was awarded The Best Magazine Editorial of the Year Award by the Finnish Periodical Publishers' Association in 2011.
Satu Vasantola has been invited to the International Book Festival Budapest in April 2018, where she will discuss her work and participate in a number of round tables, especially on intercultural encounters in contemporary European literature.