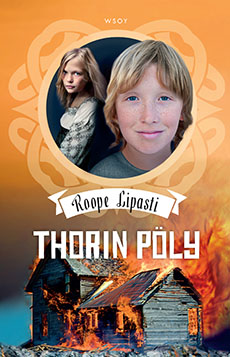 Publication date
2016
Publisher
WSOY
Format info
206 pages, 7+
The Dust of Thor
Thorin pöly
What if they are lost forever? Afterall, it is a big world with vast oceans.
Nella sets out to sea with her friends Pekko and Egil, but they are shipwrecked in a storm. The raft they manage to build takes them from bad to worse as they do not reach safety but Hiittinen. The lands are ruled by a warring king who enslaves the children. Egil is tasked with the making of an explosive, The Dust of Thor, which the kind plans to use to conquer the known world.
But when Nella's fate begins to look worse than a slave's, Egil shows he isn't a Viking king's son for nothing!
Prizes
Anni Polva Prize, 2017
Series
The Viking Knot, 2015
The Dust of Thor, 2016
The Rune Stone, 2017
Material
Finnish PDF