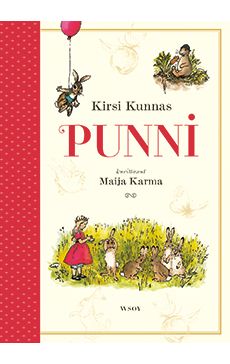 Illustrator(s)
Maija Karma
Publication date
2014 / 1957
Publisher
WSOY
Format info
32 pages, size 165x187
Bunni
Punni
You don't have to have ears to be lovable!
A well-loved writer's witty, wise story about rejecting difference and accepting it, too.
Bunni is different than the other bunnies, who don't think a bunny like him can even exist. This makes Bunni very sad, until a princess finds him and likes Bunni just the way he is because he is so unique. When Bunni eats his fourth carrot from the carrot patch and says it was his first small one, it's the beetle's turn to get upset. He has a habit of sticking his nose into things that make him upset.
Bunni, which appeared in Tiitiäisen tarinoissa [Tumpkin's Tales], is being republished as a stand-alone edition with new illustrations.
Academician Kirsi Kunnas (b. 1924) is a pioneer of modern Finnish children's literature and one of Finland's best-loved authors. The book's delightful illustrations are the handiwork of Maija Karma (1914-1999).