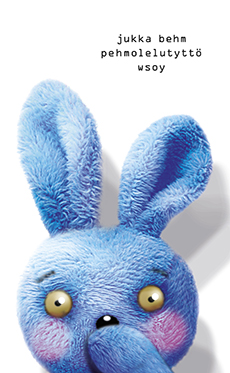 Publication date
2017
Publisher
WSOY
Format info
202 pages
Bunny Girl
Pehmolelutyttö
Emilia has a secret she only tells her stuffed animals.
She sells her time to men – strange, adult men who admire her pictures online. It seems staggeringly easy to make money.
In the eyes of Bunny Girl, the subjects of the fresh analysis are her own family and friends, along with the here and now, a time when adults try to be young people, and young people try to be adults. Emilia dives deeper and deeper into a game where she thinks she is in control, until she nearly gets away from herself.
Format
202pp
Reading materials
Finnish edition
English sample translation
Praise for the work
"An important but shocking description of the harassment and assault faced by girls. The book is an apt portrayal of how the world of adults appears in the eyes of youth. The work reminds us how innocently a young person can become the victim of abuse and how hard it is for parents to understand the media world of teenagers. The writer places himself on the side of the protagonist and defends girls' right to sexuality." – The Finlandia Junior Award Jury
Prizes and nominations
2017: Shortlisted for the Finlandia Junior Award for the best Children's & YA book
2017: Winner of the YA novel competition organized by WSOY