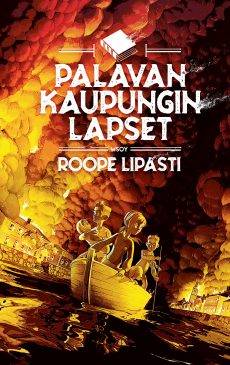 Publication date
2022
Publisher
WSOY
Format info
144pp
Children of the Burning City
Palavan kaupungin lapset
Winner of the Runeberg Junior Prize 2023
Travel back in time to the 1830s, where an incredible adventure unfolds in a bustling city that is rapidly engulfed by life-threatening, out-of-control fire. Amidst the blazing turmoil, three courageous kids find themselves in peril as they embark on an honorable mission born from a solemn vow to a dying man.
It's early September 1827 and although Peter, Hilda and Jacob don't know it yet, they are about to embark on the most dangerous adventure of their lives. For now, the children are only preoccupied with their usual joys and woes of the day. Peter's ambitious plan to make some extra money by catching and selling crabs is particularly exciting for the two 12-year-old boys who hail from completely different social classes. Merchant's son Jacob thrills more about the venture itself, but for Jacob, the prospect of earning money could even change his future as his family is unlikely to afford to let him continue his studies. Peter's little sister Hilda's dreams of studying don't look any more likely either.
The smell of smoke soon alerts everyone, including the children, that their hometown is on fire.  The children flee with others through the streets of the city in chaos. Yet they stop to help those more vulnerable than themselves, and end up giving a solemn vow to a dying man: to find a priceless book that is hidden in the Cathedral to save it from the flames.  The children's detour takes them into the path of danger in a way that the raging inferno around them alone would not. They must use every ounce of their courage and wits to succeed , and to reach safety.
Lipasti has based his fast-paced adventure in a real historical event; the largest urban fire in the Nordic history, the Fire of Turku in 1837 that destroyed three quarters of the city and left 11 000 residents homeless.
'The book vividly portrays the diverse future plans of friends, the societal structure of the 19th century, and the extreme disaster from the perspective of children. With danger lurking around every corner, the atmosphere of the story is palpable and captivating.'
-Statement of the Runeberg Prize Jury
Material
Finnish Edition
English Sample Translation, 16 chapters