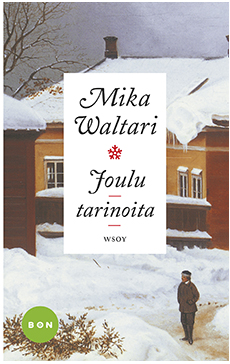 Publication date
1985
Publisher
WSOY
Format info
Christmas Stories
Joulutarinoita
A collection of 57 Christmas stories from Finland's Mika Waltari.
Throughout his life, Mika Waltari wrote Christmas stories for magazines and newspapers. Christmas Stories is a collection of his best, giving the reader insight into Waltari's development as a writer throughout the years.
Suitable for children and adults alike, Mika Waltari's Christmas Stories collection includes favourites such as The Writer's Christmas, The Wisdom of the Earth, Homecoming, A Sensitive Man, A Girl Looking at her Mother, The Incredible Adventures of Engineer Jalovaara and more. They're filled with Waltari's characteristic humour, wisdom, and sensitivity. Handling topics from the life of an artist to reflections from soldiers on the front line and the musings of children, the stories are sure to intrigue and delight readers.
Mika Waltari (1908-1979) is the most popular 20th century Finnish writer who is best known for his magnus opus The Egyptian. Over a career that spanned five decades, Waltari published well over 100 works, of which 200 translations have been made. His works include at least 30 novels, 20 plays and 15 novellas, as well as short stories, poems, screenplays and essays. In 1957 he was appointed to the Academy of Finland, having previously won the state literature award five times. Waltari's works have been translated into over 40 languages.
Material
Finnish PDF