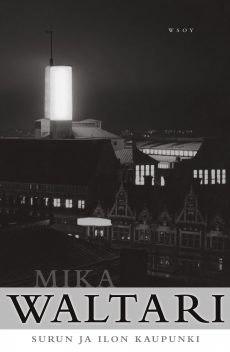 Publication date
1936
Publisher
WSOY
Format info
314 pages
City of Sorrow and Joy
Surun ja ilon kaupunki
Helsinki residents from different social classes mix in this smart and thought-provoking one-day novel.
This one-day novel opens with a glimpse into the lives of a diverse cross-section of Helsinki residents: a stranger arriving in the city by train; a young boy recovering from surgery; a worker; a successful businessman; a young nationalist; a conscientious theologian; a writer seeking creativity; and an old, dying man.
All of these characters come from different socio-economic backgrounds and are at different stages of their lives. In City of Sorrow and Joy, they encounter each other at various points throughout the same day.
Filled with Waltari's characteristic philosophical musings and sharp observations, City of Sorrow and Joy is a tale in which the rich meet the poor, the old meet the young, and the idealistic meet the resigned.
Mika Waltari (1908-1979) is the most popular 20th century Finnish writer who is best known for his magnus opus The Egyptian. Over a career that spanned five decades, Waltari published well over 100 works, of which 200 translations have been made. His works include at least 30 novels, 20 plays and 15 novellas, as well as short stories, poems, screenplays and essays. In 1957 he was appointed to the Academy of Finland, having previously won the state literature award five times. Waltari's works have been translated into over 40 languages.
Rights sold
Czech (Hejkal), rights reverted
German (Abenland)
Spanish (Plaza & Janes)
Reviews
"Waltari's depictions of people are exquisite. He carefully creates convincing and realistic characters, who are filled with sensitivity." — P.S. Rakastan kirjoija blog