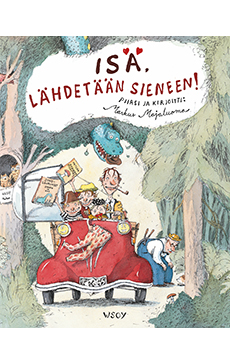 Publication date
2003
Publisher
WSOY
Format info
46 pages Size: 216 mm x 272 mm
Dad, Let's Go to the Forest!
Isä, lähdetään sieneen!
When Dad comes home from work, his three kind announce that they want to go to the forest for a walk.
Dad is surprised and resists – but once again the little angels get their wish. Children want to hunt the forest for mushrooms. They bring along the mushroom books and other necessities, along with the neighbour, Mr Potham and his flagpole. Thus begins an excursion where crazy events take place – for instance when an unknown species approaches the mushroom pickers.
Dad, Let's go to the Forest! is a captivating sequel to artist Markus Majaluoma's Dad, Let's Go Boating!, a book about the unruly Rosewood family.
Rights sold
Chinese (Beijing Science and Technology Press)
Hindi (A&A Book Trust)
Danish (Turbine Forlaget)
Lithuanian (Nieko Rimto)
Russian (Samokat)
Reading material
Finnish edition
Full English text
Chinese edition
Russian edition
Hindi edition
Lithuanian edition
Praise for the Work
"In this funny story there are spectacular Finnish villages, country scenery and forest views. There are a few mushrooms as well – altough unrecognizably coloured. In every scene there is mischievous fantasy and strong elements of caricature with the transportation of the flagpole and other things. Once more the plot has anarchistic tendencies. The adults in the story are, to put it nicely, really simple nice dimwits who submit to the children's cheerful tyranny. The book's illustrations are lively, the characters stylised, and the broken colours beautiful. There is a lot for children to look at, to wonder and to embrace in these pages full of rich detail." – Virikkeitä 1/2005