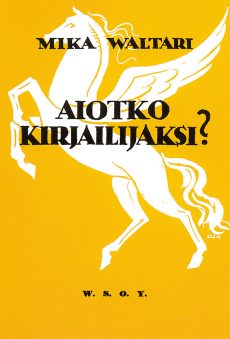 Publication date
1935
Publisher
WSOY
Format info
396 pages
Do You Want to Be a Writer?
Aiotko kirjailijaksi?
The great Mika Waltari's guidebook to becoming an author.
In this non-fiction guidebook, Mika Waltari teaches his reader how to become an author.
Including tips on developing your own writing style, choosing the right topic to write about, and dealing with publishers—as well as a charming section on choosing the right typewriter — it has long been considered a must-read for anyone who wants to make it as an author.
The author Kalle Päätalo is said to have read this book before embarking upon his own career as an author.
Mika Waltari (1908-1979) is the most popular 20th century Finnish writer who is best known for his magnus opus The Egyptian. Over a career that spanned five decades, Waltari published well over 100 works, of which 200 translations have been made. His works include at least 30 novels, 20 plays and 15 novellas, as well as short stories, poems, screenplays and essays. In 1957 he was appointed to the Academy of Finland, having previously won the state literature award five times. Waltari's works have been translated into over 40 languages.
Reviews
"Do You Want to be a Writer? is a fun read. As a writer, I admire Waltari for his versatility, productivity, knowledge of humankind, immediacy, humour and uncompromising style. This guide to writing is… stylistically natural and humorous. Almost every page of it made me smile." — Tuulin viemää blog