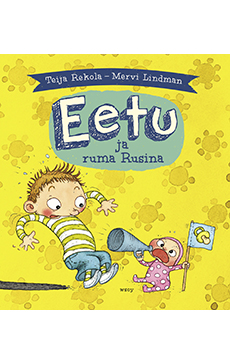 Publication date
2013
Publisher
WSOY
Format info
63 pages - colour illustrations - 170mm x 240mm
Eetu and The Ugly Raisin
Eetu ja ruma rusina
The book deals with sibling rivalry in a fast paced and fun way.
Eetu feels that the newcomer in his family, his little sister Raisin has hypnotised their parents. Raisin screams through the nights and breaks all of Eetu's best toys. Eetu tries to be nice to the baby but a shadow grows behind him. The shadow eggs Eetu on into finding a solution on the Raisin problem. But what can Eetu do? He tries many ways of getting rid of the baby but fails in all his attempts. One day a sudden situation makes all the difference and Eetu realizes that he loves his little sister after all!
The second title in the Eetu-series is Eetu and The Smartypants (2014).
Rights sold
Ukraine (BAT)