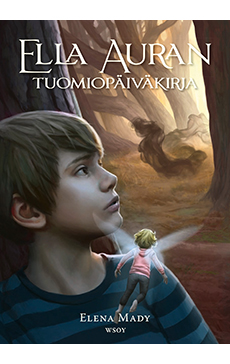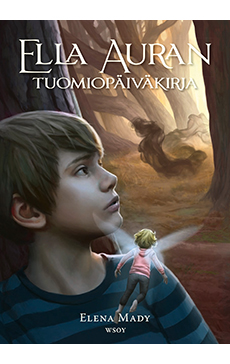 Publication date
2011
Publisher
WSOY
Format info
420 pages Size: 157 mm x 216 mm
Ella Aura's Doomsday Diary
Ella Auran tuomiopäiväkirja
"I will save you now, Tom, just like you asked me to!" Then Ella shrunk herself and her human and popped out her wings one final time.
Felf girl Ella Aura, a child of a fairy mother and an elf father, saves the life of a human boy Tom Dahl, and everything changes. Tom becomes "her" human, and though they do no know it yet, Ella and Tom's friendship becomes intertwined with the fate of the Earth. For the Earth to survive, Ella must keep Tom safe and fight off a deadly enemy who wants to destroy them both.
Ella Aura's Doomsday Diary is the first instalment in a new fantasy series. Clever humour and playful phrases flit lightyly about the work, but they also carry an important message about the importance of the individual.
The second Ella Aura title is due out in Autumn 2012. In this second part called Ella Aura and the 13th Guardian the identity of Ella and Tom's dadly enemy is revealed – that of Morb who will crush anyone standing in his way.
Reading material
Finnish edition
Full English translation