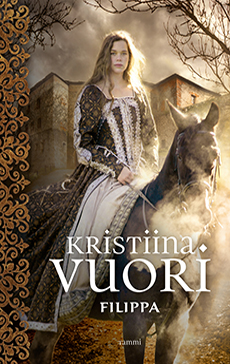 Publication date
2017
Publisher
Tammi
Format info
300 pages
Filippa
Filippa
Filippa Fleming, a noblewoman in the thrall of her brothers.
Klaus Fleming has gone down in Finnish history as the man who put down the late-16th century peasant uprising known as the Cudgel War, but who recalls his delicate but very feisty sister Filippa?
Filippa grows up under the thumb of two strong-willed brothers, Klaus and Joakim. At her inherited estate in Yläne, Filippa can be the lady of the manor, ruling over a small army of servants and tenant farmers.  She manages a large herd of cattle, breeds Friesian draught horses, and uses her own seal to underscore her orders.
But Filippa's sway does not extend to her own life. Under 16th century law and practice, Klaus is his sister's legal guardian and can make the big decisions on her future. Why does Klaus deny his sister the right to marry her chosen betrothed? Is the brother afraid of what will happen to the family lands and property? Or is there some other motive, something altogether more ominous?
Material
Finnish PDF
Synoppsis
Reviews
"Kristiina Vuori has once again written a historical novel that will satisfy your reading bug." – Kirjasähkökäyrä blog
"When it comes to character descriptions, Vuori is a true wizard, and the people in Filippa are flesh and blood with their hopes and actions.  At the same time, the description of the time is constructed skilfully and enjoyably. Historical novels also include an element of erotic adventures, and Vuori has successfully slipped these into Filippa's life… Filippa is high-quality entertainment at its best! P.S. Men will like it too!" – Kirsin kirjanurkka blog
"Although the work is mostly fiction, it feels real and lifelike… The work is written very fluidly and I have to say that the story swept me away." – Kirjakaapin avain blog