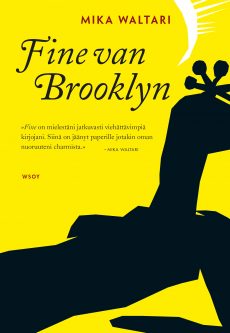 Publication date
1943
Publisher
WSOY
Format info
149pp
Fine van Brooklyn
Fine van Brooklyn
Mika Waltari's classic novella about a Finnish scientist who looks back on a former ill-fated love affair with a Dutch woman in Brittany.
Fine van Brooklyn tells the story of a Finnish scientist who took a research trip to Brittany in his youth. On his trip he met a young Dutch woman, Fine van Brooklyn, who he immediately fell in love with. The woman played hot and cold and, despite hearing that she was a "witch" with a "wicked spirit", the novella's protagonist continued to pursue her.
Waltari paints his narrator as a naive man who is blinded by passion. Filled with satire and irony, Fine van Brooklyn is an acerbic and sharp depiction of how a beautiful woman can play with a man's heart.
Mika Waltari (1908-1979) is the most popular 20th century Finnish writer who is best known for his magnus opus The Egyptian. Over a career that spanned five decades, Waltari published well over 100 works, of which 200 translations have been made. His works include at least 30 novels, 20 plays and 15 novellas, as well as short stories, poems, screenplays and essays. In 1957 he was appointed to the Academy of Finland, having previously won the state literature award five times. Waltari's works have been translated into over 40 languages.
Material
Finnish PDF
German translation
Rights sold
Czech (Vysehrad)
Dutch (Brussel Paleis voor Schone Kunsten)
English, UK (Hodder & Stoughton)
English, USA (G. P. Putnam's Sons)*
Estonian (Eesti Raamat)
French (Actes sud)
German (Kuebler)
Hebrew (Poalim)*
Hungarian (Europa)
Italian (Iperborea)
Polish (Panstwowy Instytut)
Slovakian (Tatran)
Spanish (Aurea)*
Swedish (Schildts)
Ukranian (Folio)
*rights reverted