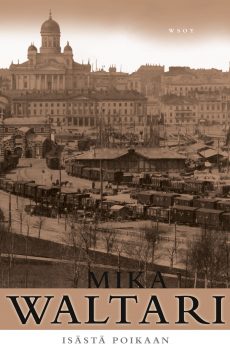 Publication date
1942
Publisher
WSOY
Format info
704 pages
From Father to Son: The Helsinki Trilogy
Isästä poikaan
A collection of Mika Waltari's much-loved novella trilogy about Helsinki.
Comprising The Man and the Dream, Soul and Flame, and Burning Youth, this collection of abridged Mika Waltari novellas tells the story of Helsinki, through three generations. The stories, which are largely inspired by Waltari's own family, span many districts of the city. Dealing with themes including the famine years of the 1860s and the immanent threat of war, the protagonist of these novellas are united by the ambitious search for their own paths and a shared longing for a sense of peace.
From Father to Son is a must-read collection that remains as relavent today as it was upon its publication in 1942.
Mika Waltari (1908-1979) is the most popular 20th century Finnish writer who is best known for his magnus opus The Egyptian. Over a career that spanned five decades, Waltari published well over 100 works, of which 200 translations have been made. His works include at least 30 novels, 20 plays and 15 novellas, as well as short stories, poems, screenplays and essays. In 1957 he was appointed to the Academy of Finland, having previously won the state literature award five times. Waltari's works have been translated into over 40 languages.
Rights sold
Latvian (Zelta Abele Apgads)
Spanish (Ediciones G.P.)