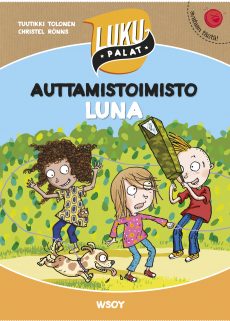 Publication date
2017
Publisher
WSOY
Format info
64 pages
Help Agency Luna
Auttamistoimisto Luna
People tend to need help. For all sorts of things.
Annikki and Yasmin decide to set up an agency that will offer help to those who need it. And Luna, Yasmin's most talkative hamster, goes with them — tucked away in Yasmin's pocket. And since the art of spying always comes handy, the girls invite Miro — with his binoculars and periscope — to join them.
Their first customer is Aunty Olga next door, whose dog Paws needs some excercise. But Paws is not an easy dog to walk, and things do not go as planned. As the children do their best to complete the Help Agency's first job, they happen by a police investigation into a robbery at a museum in town.
Series
Help Agency Luna, 2017
Help Agency Luna at the Attic, 2018
Format
64pp
Ages: 5+
Material
Finnish PDF