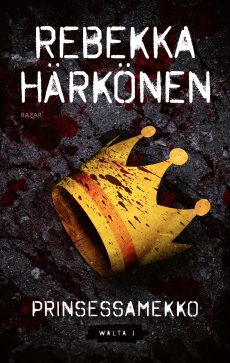 Publication date
February 2023
Publisher
Bazar
Format info
415 pages
Hiding in Plain Sight
Prinsessamekko
Award-winning journalist Rebekka Härkönen's fiction debut, featuring tenacious reporter Suuna Walta, plunges readers into the shadows of abuses of power at the highest levels that leave their mark on the most innocent.
When two horrific crimes punctuate the November gloom in Helsinki – a young man shoots three people and then himself on the metro, followed by the discovery of a plastic-wrapped torso dumped at the railway station—tenacious crime reporter Suuna Walta is soon on the scene. The seasoned hack has her methods of obtaining information for her scoops, however much Detective Inspector Jens Jäämeri, a perpetual thorn in her side, tries to make it difficult for her.
As the police begin their investigation into the shooting, Suuna soon receives a tip-off from the underworld that it wasn't motivated by extremism, no matter what the police may say. Suuna soon uncovers something that will put the police on the back foot, uncovering failures in the system to protect the most vulnerable, while those in the upper echelons of power remain ostensibly untouchable.
Rebekka Härkönen lifts the lid on the modern, hectic world of crime reporting with her debut standalone series featuring Suuna Walta, drawing inspiration from real-life cases, and the social- and administrative failings swept under the mat. With her flair for a good story, Härkönen skilfully weaves a vivid and well-paced crime novel with a plucky reporter as the lead charater. Perfect reading for fans of Tina Frennstedt's 'Cold Case' series.
Material
Finnish Edition
Synopsis
Author Letter
Praise
'Vivid and compelling.' – Kansan Uutiset newspaper
'Skillful pacing keeps the reader in its grip and seasoned crime reporter Rebekka Härkönen's expertise shines through.'
– Kotiliesi magazine