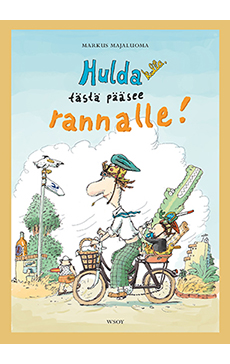 Publication date
2013
Publisher
WSOY
Format info
24 pages Size: 153 mm x 218 mm
Hilda Goes to the Beach!
Hulda kulta, tästä pääsee rannalle!
Don't fall asleep on the beach
It is a hot summer day, too hot to play games on the back yard. Luckily Jack has a bike and Hilda a baby bike seat. They decide to go to the beach.
Jack spreads a blanket on the sand, he's going to get tanned. Hilda takes a shovel and other beach toys, she has decided to make sandcakes. But first, Hilda will go for a swim and catch a fish. Then she will have to run after a runaway dog, buy a watermelon, repair their neighbour's hat and then make the biggest sand cake on the beach. When Jack wakes up from his nap he will be greatly surprised!
Markus Majaluoma's fifth book on the adventures of Hilda and Jack warms the heart of both children and adults.