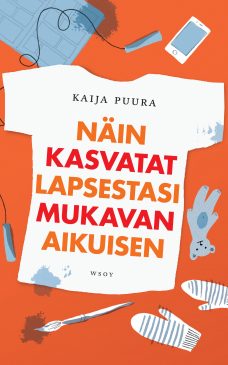 Publication date
2019
Publisher
WSOY
Format info
185 pages
How to Raise the World's Happiest Nation
Kuinka kasvatat lapsestasi mukavan aikuisen
From the world's happiest country* a practical, non-judgmental and concise guide sharing the secrets of Nordic parenting, akin to Philippa Perry's The Book You Wish Your Parents Had Read.

They say money can't buy you happiness. Although Finland is an affluent country with enviable PISA ratings, what is its qualitative secret to achieving consistent high rankings on the global happiness indexes?
"In order to grow up into a well-adjusted adult, a child needs love and boundaries, emotional skills, and appreciation", says Kaija Puura, professor of child psychiatry and senior physician in Finland. Puura defines a happy, well-adjusted child as: independent; has healthy self-esteem; can adapt their feelings and behaviour to a situation; flexible-minded; collaborative; able to create positive relationships; has empathy and helps those who need it.
Puura shares insights into the child's world, giving real examples of different scenarios from everyday life. Her indispensable book equips parents with practical and non-judgmental tips and encouragement where their behaviour can have a positive impact on their child's growth and happiness, forming good habits with their children, and how to keep their cool when a tantrum strikes!
How to survive toddler meltdowns
Why giving choices is a decision-making dilemma for your child
What to do when your child plays the "no" game
How to make mealtimes bearable for everyone
Make a routine for mealtimes, bedtimes, and homegoing time
Free play is the best way to develop creativity
* according to the independent World Happiness Report 2019 conducted by Gallup, and the OECD's Better Life Index
Format
185pp
Reading materials
English sample translation
Finnish edition
Author letter in English