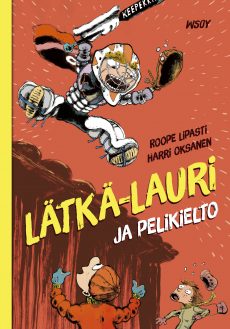 Illustrator(s)
Harri Oksanen
Publication date
August 2021
Publisher
WSOY
Format info
~120 pp., Age 7+
Ice-Hockey Ace 7: Suspended
Lätkä-Lauri ja pelikielto
Ace eats, sleeps and dreams hockey, just like his best friend Vic. They are heading for the NHL, but for now they are in a junior team.
Ace's dream of becoming a celebrated NHL goalie almost slipped away from him in the very beginning: on ice he was not the whizz-kid he'd always thought he'd be. But then his dad gave him an old catcher glove and suddenly Ace was also an Ace on ice! He was able to block and catch every buck coming his way! He is convinced there is some magic in the glove…
Book 7: Suspended. Goalie pads are good for protection. But Ace is about to find that they do not protect from foolishness! His team has an important tournament ahead of them, and he gets a brand new set of goalie pads. In his elation, Ace is convinced they'd protect him from anything and everything.  And it must be said: the pads are still like new after Ace jumps from great height, unlike his collarbone! It's a close call – will Ace's foolishness mean he'll have to sit out the tournament?
Material
Finnish edition due in August 2021
Ice-Hockey Ace Series
Book 7: Ice-Hockey Ace: The Suspension, due in August 2021
Book 6: Ice-Hockey Ace: The Spirit of the Glove, WSOY 2020
Book 4: Ice-Hockey Ace: The Bruiser in the Rink, WSOY 2019
Book 3: Ice-Hockey Ace: Sick Tournament, WSOY 2019
Book 2: Ice-Hockey Ace: Miracle Save, WSOY 2019
Book 1: Ice-Hockey Ace: Miracle Glove, WSOY 2019
Special Edition: Ice-Hockey Ace's Guide to Ice-Hockey, WSOY 2019