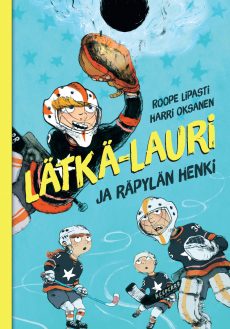 Illustrator(s)
Harri Oksanen
Publication date
2020
Publisher
WSOY
Format info
128 pp., 7+
Ice-Hockey Ace 6: The Spirit of the Glove
Lätkä-Lauri ja räpylän henki
Ace eats, sleeps and dreams hockey, just like his best friend Vic. They are heading for the NHL, but for now they are in a junior team.
Ace's dream of becoming a celebrated NHL goalie almost slipped away from him in the very beginning: on ice he was not the whizz-kid he'd always thought he'd be. But then his dad gave him an old catcher glove and suddenly Ace was also an Ace on ice! He was able to block and catch every buck coming his way! He is convinced there is some magic in the glove…
Book 6: The Spirit of the Glove. Ace has always shined as his team's goalie, but at his new club, a competition will determine the ranking of first and second goalie. The magical powers of his miracle glove are met with laughs at the new club, and Ace throws the mitt in a corner. But at that very second, the lights go out on the rink and strange things start to happen in the dressing room! Has Ace angered the spirit of the glove?
Material
Finnish edition
Ice-Hockey Ace Series
Book 6: Ice-Hockey Ace: The Suspension, due in August 2021
Book 5 : Ice-Hockey Ace: The Spirit of the Glove, WSOY 2020
Book 4: Ice-Hockey Ace: The Bruiser in the Rink, WSOY 2019
Book 3: Ice-Hockey Ace: Sick Tournament, WSOY 2019
Book 2: Ice-Hockey Ace: Miracle Save, WSOY 2019
Book 1: Ice-Hockey Ace: Magic Glove, WSOY 2019