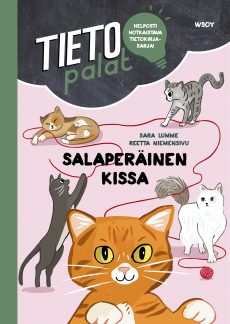 Publication date
May 2021
Publisher
WSOY
Format info
64 pp., Age 7+
Junior Facts: Cats
Salaperäinen kissa. Tietopalat
Everything you need to know about cats, from the tip of the nose to the end of the tail!

Cats are sweet, purring furballs – and mighty hunters. Cats can sneak quietly and make incredible leaps, and they almost always land on their feet. Cats see in the dark and even hear the echolocation of bats. Cats are super talented!
The books in the brand new Junior Facts series are filled with information in an easy-to-consume package. The interesting topics combined with short texts and abundant illustrations help new readers to achieve the important milestones of reading books from beginning to the end!
The domestic animal/pet Junior Facts books kick off with Cat, followed by Pet Rodents in 2021. The next books in the series, Dogs and Horses, will follow in 2022.
Junior Facts series shall also feature titles on sports and natural sciences.
Junior Facts: Cat, due May 2021
Junior Facts: Pet Rodents, due September 2021
Junior Facts: Horses, due 2022
Junior Facts: Dog, due 2022.