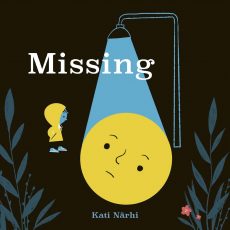 Publication date
2022
Publisher
Capuchina Kustannus
Format info
Picture Book/32 pages/210mm x 210mm/ 3+
Missing (you)
Kadoksissa
Multi-awarded, affectionate picture book about missing someone dear.
What is it like to lose a friend and to miss them? You might feel like the boy in this wordless story whose best friend moves away. Longing for his dear friend, the boy keeps seeing his friend's face everywhere: on a  rainy street,  in a shop, even in the egg-yolks, and on the face of the moon. The world feels dull and grey without his friend by his side. Yet, the sadness will not last for ever. For the boy in the story, a message from afar makes all the difference. As the sadness transforms into acceptance, the colors return,  accompanied by hope and joy.
Kati Närhi is a multi-awarded illustrator, graphic novel artist and inventive storyteller. When travelling, she sometimes misses people and her dachshund.
Praise
'An intricately crafted piece of art.'  – Helsingin Sanomat (newspaper)
Awards & Nominations
Rudolf Koivu Award 2023 (Finland)
Nami Concours Purple Island Prize 2023 (South Korea)
Merit Award 2022 at 3×3 Professional Show nro19 (USA)
World Illustration Awards nominee 2022 (UK)
The Most Beautiful Book nominee 2022 (Finland)
IBBY Silent Books Exhibition (London) 2022 (International)
dPictus The Unpublished Picture Book Showcase  (Bologna) 2020 (International)
Material
Finnish edition
English pdf