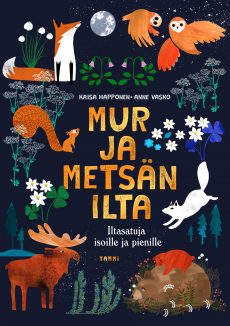 Publication date
September 2021
Publisher
Tammi
Format info
Mur and the Woodland Night
Mur ja metsän ilta
New, gorgeous addition to the Mur series. Ten bedtime stories that may seem small but – like Mur – these stories are important and wise!
As the daylight gives way to night all in the woods, Mur stops to wonder where the light goes. And when exactly does the evening end and the night begin? Ten brand new bedtime stories in Mur's beautiful forest setting are a joyous and meaningful exploration of human emotions and responses.
In Mur books the focus is on those seemingly small yet all important realisations in life, and now the same gentle philosophy is embedded in ten brand new bedtime stories featuring different woodland animals. We meet a moose who is scared to step out of the woods — until he does. And what becomes of the previously high‐flying kestrel who would have to overcome her feelings of guilt to be able to fly again. How could she enjoy herself when so many others cannot? All ten stories are small yet so very big in scope. And needless to say, we also get to stare at the stars with Mur and BIG and, if need be, join them for a somersault or two!
Mur and the Woodland Night introduces a new small and thick bedtime  story book format to the Mur series. Kaisa Happonen once again manages to convey her wise, philosophical musings to the reader emphatically and playfully. Anne Vasko's gorgeous illustrations pay homage to nature and complete the stories beaufutilly.
The Mur Series: 
Mur and the Woodland Night, due in October 2021
Mur and the Raindrop, Tammi 2020
Mur and the Star, Tammi 2019
Mur and the Blueberry, Tammi 2018
A Bear Called Mur, Tammi 2016