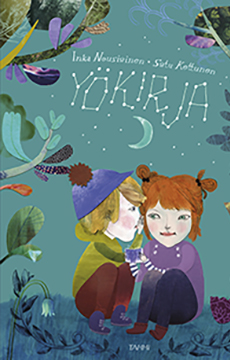 Illustrator(s)
Kettunen Satu
Publication date
2015
Publisher
Tammi Publishers
Format info
40 pages, four-color illustrations
Night Diary
Yökirja
Shortlisted for the Nordic Council Children and Young People's Literature Prize!
A beautifully touching picture book about a boy who is allergic to daylight but finds his solace in the night.
Instead of a journal, six-year-old Moon keeps a night diary. Moon can't abide daylight; if he ventures outdoors in the daytime, he has to wear a real-life spacesuit.
One night, Moon meets a little girl and her dog on a hill. "Have you ever kept a night diary?" Moon asks the girl. "No," the girl replies. "But maybe you could teach me how."
Material
Finnish PDF
Prizes and nominations
2017, shortlisted for the Nordic Council Children and Young People's Literature Prize