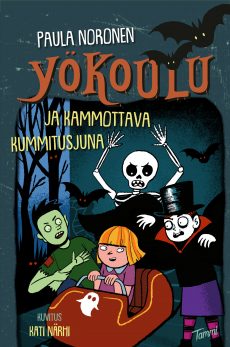 Illustrator(s)
Kati Närhi
Publication date
October 2020
Publisher
Tammi
Format info
64 pp.
Night-School and the Ghastly Ghost Train
Yökoulu ja kamottava kummitusjuna
The pupils' fundraiser turns into a blood-curdling adventure!
The Night-School pupils need to raise money for their class trip to Transylvania. They're dying to visit the castle of the real Count Dracula! Their teacher suggests that the children organise a fundraiser and offer their services to their local theme park: the ghost train is closed because it's too expensive to fix. The pupils offer to play the scary characters on the train's route, and are hired for the job immediately.
The theme park's visitors are thrilled with the ghastly ride! Of course, they don't realise the true nature of what they're experiencing. But when a spoiled girl called Cleopatra Groats takes the ride, things go wrong! Cleopatra thinks Sam Skeleton is a toy and grabs him for herself! Paul Zombino, Martha Vampire and the other kids from Night-School must rescue their kidnapped friend!
The Night-School books make for suitably creepy, not to mention hilarious, reading for all primary school pupils.
Age: 6+
Format: 64 pp., colour illustrated throughout
Material available
English full translation
Finnish edition
Presentation of the series in English