Onneli and Anneli series
Onnelin ja Annelin kootut kertomukset
Onneli and Anneli's House
(Onnelin ja Annelin talo, 1966)
 It's fun to live with your best friend!
Onneli and Anneli are best friends. One fine summer's day, they get to move into their very own house and meet their quirky neighbours Tingelstiina and Tangelstiina, who tend a secret garden. They also meet the artistic policeman Constable Waterlily and grumpy Mrs Raisin, who sells piggy banks. Onneli and Anneli spend an idyllic summer in Rose Lane, where there are plenty of surprises and adventures!
Onneli and Anneli's exciting world is filled with friendship, joy and bubbly excitement. Onneli and Anneli's House, illustrated by Maija Karma, was first published in 1966.
A film based on the book premiered in theaters in 2013 and a second film based on the second book premiered in the fall of 2015.
Onneli and Anneli's Winter
(Onnelin ja Annelin talvi, 1968)
Onneli and Anneli are perfectly ordinary little girls – well, maybe a little happier than most. One evening in November, a little car, hardly bigger than a shoebox, drives up to their very own house and out step the teeny-tiny Tiddly family. Their home has been run over by a steamroller. They move into Onneli and Anneli's dollhouse temporarily and spend Christmas with the girls. But not all the big people have such good intentions towards the Tiddly family…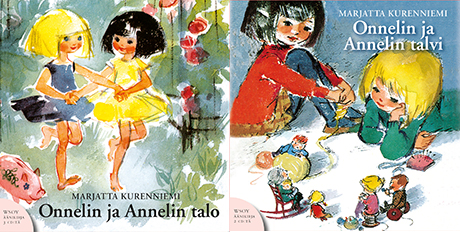 Onneli, Anneli and the Orphans
(Onneli, Anneli ja orpolapset, 1971)
What's going on in Rose Lane? There's an orphanage being built opposite Onneli and Anneli's house, with a big iron fence around its asphalt yard. Onneli and Anneli observe as twenty children dressed in grey are marched inside. Th
e orphans don't look happy, and it soon becomes clear what sort of life they have under the stern command of Minna Pinna, the orphanage director. Soon Onneli, Anneli, the little Tiddly family and the other residents of Rose Lane team up to free the children from their grim quarters.
Onneli, Anneli and the Go-to-Sleep Clock
(Onneli, Anneli ja nukutuskello, 1984)
The peaceful atmosphere of Catnip Town is under threat! Three stony-faced men in overalls march into Rose Lane and start construction works for a horrible motorway. Later, when even the Tingle-Tangle Gardens are in danger of ending up underneath the developers' motorway, it's time to get help. In order to defeat the schemes of Mr Sideburn the perfume-factory owner and Mr Cutback the senior shortcut engineer, Onneli and Anneli have to use all their wits – and the go-to-sleep clock invented by Gizmo Mayday comes in handy, too.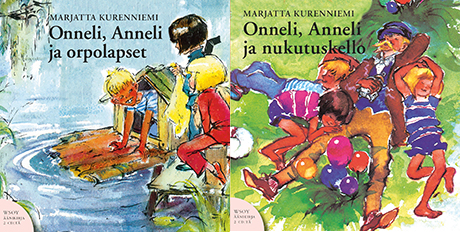 Rights sold
Chinese, simplified (Beijing Children's and Juvenile Publishing House)
Estonian (Sinisukk)
Japanese (Fukuinkan Shoten)
Russian (Rech Publishers)