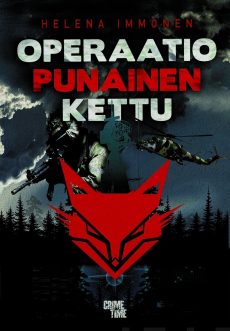 Publication date
2020
Publisher
Docendo
Format info
464 pages
Operation Red Fox
Operaatio punainen kettu
A contemporary answer to Väinö Linna's classic, The Unknown Soldier

Winner of Finland's Whodunnit Society's Debut Crime Novel of the Year award 2021. Over 17,000 copies sold.
European geopolitical tensions are on the rise and Sweden announces its intention to apply for NATO membership. Following the news, the peace on the Baltic island of Gotland is shattered one night as unidentified soldiers seize an understaffed military base on the Swedish island within a matter of hours. As morning breaks to the stark reality, Sweden asks Finland for help.
Young Finnish reservist Joni Koivu is mobilised with his best friend, Musti and their battalion to Gotland to assist Sweden in re-taking Gotland. After the battle for Gotland, it's not long before Finland becomes the target of hostilities with widespread power outages, contaminated water sources and misinformation. Joni's older sister, Riina—also a reservist—and her hus-band Mikael, a major, monitor the escalating crisis as Riina looks after their young son at home. It's not long before Russian tanks rumble over the Finnish border and Riina is called up for service. War has begun…
Following Joni, Riina and Mikael in the unfolding war, readers are immersed in the realities of it on an individual- and societal levels. Author Helena Immonen shows ordinary people facing up to the unthinkable in this chillingly prescient and authentic geopolitical thriller which has received widespread praise from critics and military experts alike.
Operation Red Fox was followed up by Operation Desert Fox in 2022. The third installment Operation Arctic Fox is set to be published in August 2023.
Material
Finnish Edition
Synopsis
Reviews
Reviews
The imaginary scenarios of Russia's invasion of Finland have hitherto been the near-exclusive preserve of Ilkka Remes. However, debutant and reserve officer Helena Immonen outperforms Remes in a novel that leaves nothing unclear. — Pertti Avola, Helsingin Sanomat
A frightening and shocking debut military thriller. — Kai Hirvasnoro, Kansan Uutiset