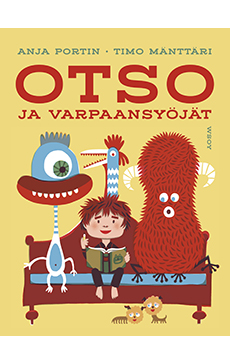 Illustrator(s)
Timo Mäntäri
Publication date
2015
Publisher
WSOY
Format info
32 pages
Otso and the Toe-Eaters
Otso ja varpaansyöjät
Otso at the bottom of the food chain
"Grandma, if animals eat other animals, are there any animals that eat people?"
Grandma tells her grandson Otso about how the food chain works: nature stays in balance when animals eat other animals. There's one question that keeps bothering Otso, though: So who eats people?
Otso starts imagining ever more fearsome man-eating creatures. Maybe they've got really slimy bellybuttons? Or lots – and I mean LOTS – of teeth?
This rollicking story contains plenty of cheeky fun for young children! Little ones' fears and quirky preoccupations are handled with an appropriately warm touch.