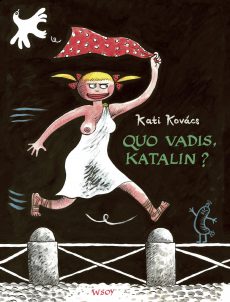 Publication date
2019
Publisher
WSOY
Format info
114 pages, mostly b&w with a dash of colour
Quo Vadis, Katalin?
Quo Vadis, Katalin?
A timely reflection on sexism, double standards, and what it means to be a woman today.
Quo Vadis, Katalin is a lively and touching graphic novel in which Kovács throws her alter ego Katalin into Italy, slap bang into the middle of a world dominated by men. Katalin moves to Rome in the hope of finding her true spiritual home in the Eternal City. Upon arrival she finds a small motel and checks in.
But it's not long before Katalin learns just how different life as a woman is in the South of Europe. Katalin's 'trip' through Italy leads her through time into the Age of Antiquity and then into the Roman Empire, in which she is still shouted at and wold-whistled by leering men. The message of this inventive and boldly feminist graphic novel will stay with you for a long time after you put the book down.
Material
Finnish PDF
Rights sold
France (Editions Rackham)
Reviews
"In Quo Vadis, Katalin, Kati Kovács is definitely at her best." — Helsingin Sanomat newspaper 
"Kovács's simplistic drawings create a fascinating contrast to her stark storytelling, leaving the reader to wonder how a woman can possibly find her own voice within a society that objectifies her. It's a quick read, but one that'll stay with you for a long time." — Ilta Sanomat newspaper
"Kovács puts the relationship between men and women at the heart of her work. Bold, shameless corporate culture also plays a central role. She's incredibly inventive, without being gimmicky." — Kainuun Sanomat newspaper
"[Finnish comic artists] bring an originality to graphic novels that artists of other nationalities do not have… Kati Kovács… is super funny." — Les Dossiers de la Bande Dessinée (dBD), France