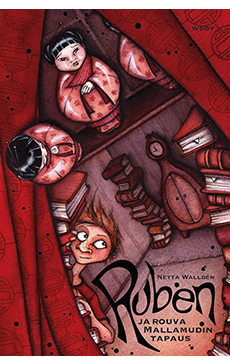 Illustrator(s)
Laura Valojärvi
Publication date
2011
Publisher
WSOY
Format info
161 pages; Size: 138 mm x 203 mm, half-tone illustrations
Ruben and the Case of Mrs. Mallamud
Ruben ja rouva Mallamudin tapaus
"She shows no emotion at all, stares into space like a dead china doll"
Ruben and his little sister Lisa hear a strange sound from their neighbour's back yard. Not much is known about the suspicious-seeming Mrs. Mallamud, since she has succeeded in protecting her privacy for decades. Her yard is watched over by the ten Chinese porcelain dolls that stand on her windowsill, which she calls her guards. Should anyone intrude on her domain, the outermost doll will have to close its eyes, fall backward, and shatter into a million pieces on the floor.
The decades of peace are broken when, in spite of their parents' warnings, Ruben and Lisa start to investigate the mystery of Mrs. Mallamud, snooping around her yard. The first two china dolls spot the intruders, fall off the windowsill, and break. What happens when Mrs. Mallamud hears them and rushes home?
Ruben and the Case of Mrs. Mallamud is an enchanting and thought-provoking mystery novel, which captures the reader with its skillful language and deep humour.
Ruben and the Case of Mrs. Mallamud starts a new series.
The half-tone illustrations are by Laura Valojärvi.