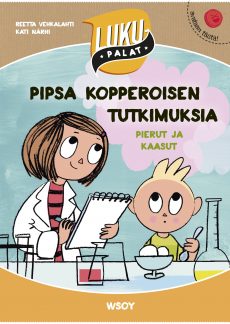 Publication date
2019
Publisher
Format info
64 pages
Science Experiments with Grace Feeney: Farts & Gases
Pipsa Kopperoisen tutkimuksia: pierut ja kaasut
A series of easy-reading books for eager readers. Available in sweet, funny, weird and fast-paced flavours – there's one for everyone!
In order to become a scientist, Grace knows that she must study and practise her experiments. And her little brother is perfect for experimenting on!
Grace wants to learn about flying. She's read about how warm gas can lift things into the air, just like it does in hot air balloons. Grace's mind starts racing… her little brother is lactose-intolerant. And a fart is a gas… Grace is ready to experiment!
Format
64pp
Colour illustrated
Age: 6+
Material
Finnish PDF