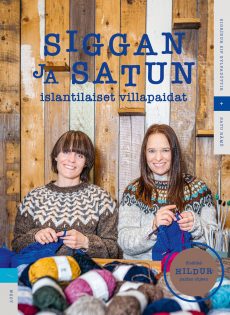 Publication date
2022
Publisher
WSOY
Format info
195 x 260 mm, 160 pp. (CMYK)
Sigga & Satu's Icelandic Sweaters
Siggan ja Satun islantilaiset villapaidat
13 fresh and authentic Icelandic sweater designs  
SIGGA & SATU'S ICELANDIC SWEATERS is a passion-project collaboration between renowned Icelandic knitwear designer Sigríður Sif 'Sigga' Gylfadóttir and Iceland-based Finnish writer, Satu Rämö with this collection of Icelandic sweater designs honouring traditional Icelandic yarns with a twinkle in the eye.
Straight from the breathtakingly beautiful Icelandic Westfjords, Sigga and Satu tap into the knitting boom with thirteen beautiful sweater designs for sizes S-XXL and various colourways using Icelandic Léttlopia, Alafosslopia, Einband, and Plötulopia yarns. Many of the patterns are suitable for beginners, and the tips for pattern adjustments will delight the more experienced knitter.
Complementing the uncomplicated pattern instructions and Björgvin Hilmarsson's beautiful photography of the pattern models and breathtaking landscapes, Satu's engaging texts cover topics such as the history of Iceland's 'national dress', the day-to-day lives of sheep farmers, including when the sheep are shorn, and how the different types of yarn are produced. Also included is a pattern for the 'Hildur' sweater, as featured in Satu's titular bestselling crime novel. A vibrant and convivial knitting guide for the Nordic knitwear fan!
Materials
Finnish edition
Rights sold
German (Südwest Verlag)