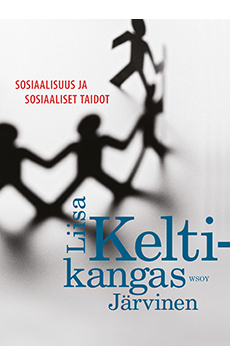 Publication date
2010
Publisher
WSOY
Format info
265 pages
Sociability and Social Skills
Sosiaalisuus ja sosiaaliset taidot
Professor Liisa Keltikangas-Järvinen delves in her book into sociability, social skills, and aggression. Sociality is emphasized and valued today at school and at work, but what is it finally? What are the social skills, and how do they differ from sociability? How is a social child behaving, how a social adult? Is the most social person the one, who catches everybody's attention by being loud and dominating the interactive situations?
Liisa Keltikangas-Järvinen deepens in her book our understanding of sociability and social skills, and clarifies their differences. Sociability is an innate temperament trait and connected with the will to be with people. As for social skills, they are something we learn, and they mean our ability to be with others.
Keltikangas-Järvinen also looks at those temperament traits that are needed for social skills. Sociability is not among the first of them.
The opposite side of social skills is aggression. How does the aggression arise, what are the underlying disorders and how does it work as a means of coping and as an uncommon model for problem-solving? And how can we weed out the childs aggression and guide his social skills?
One of the key areas of Keltikangas-Järvinen's observations is the meaning of kindergarten in the developoment of socials skills.
Sociability and Social Skills has been one of the best-selling titles in the branch of parenting and child psychology in Finland with its over 10 000 sold copies to date.
Reading material
Finnish edition