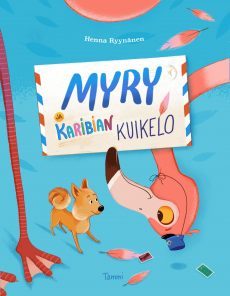 Publication date
July 2021
Publisher
Tammi
Format info
40 pp., Age 3+
Storm and the Caribbean Keepsake
Myry ja Karibian kuikelo
Santa's dog Storm becomes a substitute parent to a winged 'pup'!
A delightful story of adaptation, differences and finding your inner flamingo.
Storm and Mackie Magpie are in the Caribbean testing out Santa's new sleigh. When it's time to return home, Mackie succumbs to his magpie instincts and picks up the pinkest, shiniest stone from the beach as a souvenir.
Back home, the friends get the surprise of their lives when a flamingo hatches from the "stone", and thinks Storm is its mother! Mackie Magpie and Storm try to teach the newcomer the ways of the world, but the squawking bird gives them quite a headache as it struggles to adapt.
This is the third book in Henna Ryynänen's charming book series about Storm, the delightful dog who belongs to Father Christmas.
Material
Finnish edition
Series
Storm and the Caribbean Keepsake (Tammi, 2021)
Storm, Gale and the Blast from the Past (Tammi, 2020)
Storm's Christmas Adventure (Tammi, 2019)