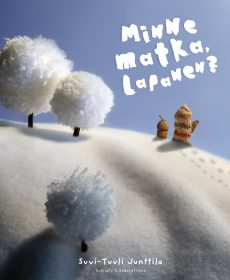 Publication date
2014
Publisher
Schildts & Söderströms
Format info
57 pages
The Adventures of the Lost Little Mitten
Minne matka, lapanen
A little mitten is lost.
Luckily, it meets an acorn in the woods. They strike up a friendship and the acorn leads the way. At night they warm up around a cosy campfire. The next morning they meet a yellow bottle top, who teaches them all sorts of fun games to play in the snow. The trio embark upon an adventure that takes them through snowy woods and icy fields. When spring arrives, the acorn bids farewell to its new companions and sets off on its own. Hopefully the little mitten will also find its place in the world…
Suvi-Tuuli Junttila (b.1979) is an award-winning graphic designer who creates and photographs breath-taking miniature scenes for her books.
Series
Where, Here, Somewhere, 2011
The Adventures of the Lost Little Mitten, 2014
Format
Hardcover
57pp
Colour illustrated
Material
Finnish PDF
English translation, set in layout
Series rights sold:
Korean (Little Mountain)
Polish (Tekturka)