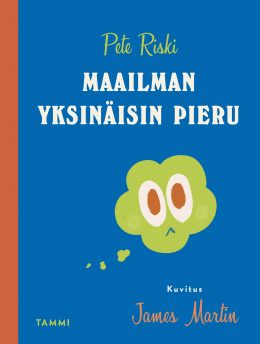 Publication date
August, 2021
Publisher
Tammi
Format info
Picture book, 48 pp, Age 3+
The Loneliest Fart in the World
Maailman yksinäisin pieru
A story of a newborn fart delivers an important and heartfelt message about everyone being valuable.
Longseller in Finland.
A new being searches for his place in the world. Everyone seems to know their purpose but him. Smoke warns of danger. Perfume makes everyone a bit fancier. Summer Breeze brings freshness in its wake…But what could be the purpose of the brand-new smell that has just arrived into the world? He drifts about in search of a clue until a burst of laughter guides him towards the most meaningful answer.
Fatherhood prompted Pete Riski to create this heartfelt story to convey the important message to children about everyone being valuable. Pete's story pairs beautifully with James Martin's colourful illustrations that give the perfect visual prompts to the children listening to the story.
Material
Finnish edition
English translation set in lay-out
Rights sold
Greek (Ditypxo)
Italian (Salani/Ape Junior)
Prizes, nominations
2023, 2nd most popular children's book Nextory E-book Awards
Reviews
'Such a beautiful book, and story. Important things beautifully told (…) Suitable for grown-ups too.' — Satokangas blog