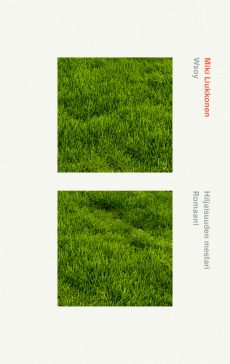 Publication date
April 2019
Publisher
WSOY
Format info
280 pages
The Master of Silence
Hiljaisuuden mestari
"There is no direct communication. There is always a filter in between. In this instance, it's you."
The Finlandia- and Runeberg Prize-nominated author of O returns with a dazzling, genre-defying novel that captures the zeitgeist of our time.
Following his meteoric magnum opus, O, Finland's rockstar literary savant is back with comparable brevity, with an astonishing new work about people, the difficulties in communication, and the interest in things, outside of their ontological being.
At midday, a twenty-something man is found dead in his office chair. Meanwhile, Herman Leorne is interviewing people for his Youtube channel, discussing the interestingness of things. Elswhere, a mother with an eating disorder considers ending her life with an overdose of Botox. But how does all this tie-in to the significance of Sinatra's My Way in karaoke history, stringent Subway™ staff training days, and iced coffee?
In its titular homage to Rimbaud, Liukkonen proves himself to be a seer of the big questions of our time, with influences of Foster Wallace and Mishima in evidence in this brilliant, new novel.
Reading material
English sample translation 59 pp.
Synopsis
Author – Editor Q&A video (in English) tk