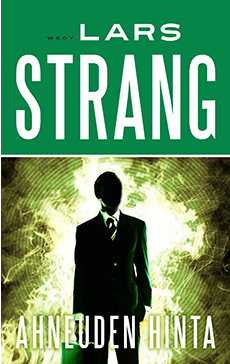 Publication date
April 2015
Publisher
WSOY
Format info
350 pages
The Price of Greed
Ahneuden hinta
  Entertaining, fast-paced suspense from the dark underbelly of the business world 
Kasperi Vuorela slips into the offices of a headhunting agency. He's carrying the access code to the database of applicants for the position of CEO of Banyan, a bathroom manufacturer. He discovers that he's third on the list, so he manipulates the profiles in a way that moves him to the top. And then a woman surprises him in the darkened office, and Kasperi is forced to resort to violence.
Kasperi gets the job, and phase one of his plan is complete. But taking the next steps proves more difficult, when concealing his crime demands further arrangements – risky ones. The company's money and his personal property start to get precariously entangled. The only personal relationships that flourish are those that can be exploited. Suddenly the future of a traditional family business is in the greedy hands of a new director.
The Price of Greed is the second work in Lars Strang's trilogy of thrillers set in the corporate world. The first work in the series, An Eye for an Eye, was published in 2014.
Reading material
Finnish edition