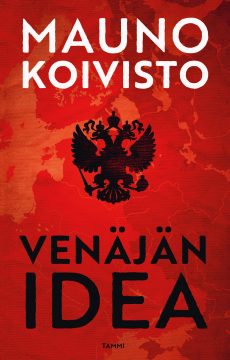 Publication date
2001/2022
Publisher
Tammi
Format info
315 pages
The Russian Idea
Venäjän idea
A chillingly timely classic of political history by Finnish statesman Mauno Koivisto.
This book examines Russia from a geographical neighbour's perspective. In The Russian Idea, Finland's ex-President sets out to understand Russian thinking through the lens of historical events and to anticipate its influence on Russia's future choices. Following Russia's attack on Ukraine in February 2022, the book is today more topical than ever.
While outlining the key episodes in Russian history, Koivisto explores the essence of what Russia and Russianness stand for. What was the significance of Moscow's self-proclamation as the Third Rome, and how did Russia become an empire? What impact did the existence of that empire have on Finland's independence?
Material
Finnish Edition
English Translation tk
Praise
'President Mauno Koivisto's THE RUSSIAN IDEA (2001) was reprinted after decades, when Russia invaded Ukraine in full for-ce and the book's library reservation lists grew…. For Koivisto, the Russian Idea was about trying to take over precious land, spread faith and unite Slavs in Russia's leadership. That sounds familiar.'  – Vesa Sirén, Helsingin Sanomat newspaper