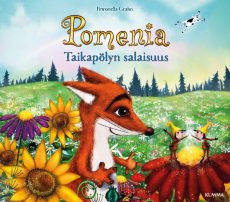 Publication date
2020
Publisher
Kumma
Format info
picture book, 48 pages, 3+
Pomenia: The Secret of Magic Dust
Taikapölyn salaisuus
Introducing the first picture books set in the magical fairytale world of Pomenia! The secret of Pomenia's magic dust is so delightful that every reader is bound to wish for a sprinkling of it onto all their days!
Once upon a time, and forever more, anything and everything is possible.
Do you know why fairies collect magic dust in the magical world of Pomenia? Little Fox doesn't know either, but he burns with the desire to find out and Pixley and Pinkey, two funny little creatures, decide to help him to find out the answer. Thus begins the adventurous search that goes on from dawn 'til dusk and stretches from the glorious Posy Meadow all the way to the forest of Augury Pines. Surely there is someone in Pomenia who knows the answer?!
The book takes the reader to the middle of the magical world of Pomenia to meet some of its gentle creatures. The secret of magic dust, once revealed, is one that makes readers of all ages to wish for a dusting of it onto all their days! The Pomenia books all open a door into a world where even the smallest things are worthy of wonder.
Materials
Finnish edition
English translation set in layout