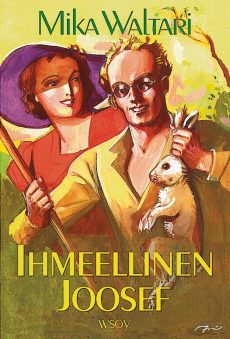 Publication date
1938
Publisher
WSOY
Format info
216 pages
The Wonderful Joosef
Ihmeellinen Joosef
A summer page-turner from Finland's Mika Waltari.
It's spring. University student Karin Lauraeus walks across Helsinki's Esplanade with her skirt fluttering in the wind. She's furious at men and their deceitfulness. The major, who she previously thought of as a shoulder to cry on, has recently revealed himself to be after her family money.
Karin and her friends are sitting in a trendy restaurant gossiping about the holidays. First Karin notices his glasses. Then his shabby raincoat, worn shoes, and pipe. That man doesn't seem to belong here…
The Wonderful Joosef is a wild and spirited book which is filled with Helsinki charm and nostalgia for times gone by. Its characters spend time at Fazer and Grand, Kappeli and Kaivohuone, even spending the hottest day of the year on the beach… much to the amazement of the locals!
Mika Waltari (1908-1979) is the most popular 20th century Finnish writer who is best known for his magnus opus The Egyptian. Over a career that spanned five decades, Waltari published well over 100 works, of which 200 translations have been made. His works include at least 30 novels, 20 plays and 15 novellas, as well as short stories, poems, screenplays and essays. In 1957 he was appointed to the Academy of Finland, having previously won the state literature award five times. Waltari's works have been translated into over 40 languages.
Rights sold
Czech (Euromedia), rights reverted
Estonian (Sinisukk)