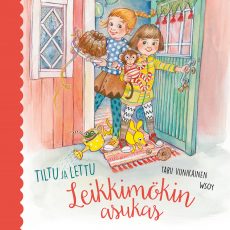 Publication date
2017
Publisher
WSOY
Format info
88 pages
Tiltu & Lettu and the Garden Gnome
Leikkimökin asulas
Hilariously funny stories about two sisters and their knee-high friends, the garden gnomes!
The pink playhouse is finally ready! The first thing that Tiltu and Lettu do is put a sand cake in the oven. But… what on earth? There's already a delicious chocolate cake in it! Who made it? Turns out, it was a funny, little man who claims to live in their playhouse in the winter. In the summer, he sleeps in the garden and pretends to be a garden gnome!
The two girls and their knee-high friend cause quite a hullabaloo. This sweet children's novel comes together with Oili Kokkonen's colourful illustrations.
Taru Viikainen (b.1983) teaches Finnish language and literature to high school students. Oili Kokkonen (b.1983) is a professional illustrator and artist.
Series
Tiltu & Lettu and the Garden Gnome, 2017
Tiltu & Lettu and the Seasonal Elves, 2018
Tiltu & Lettu and the Lost Gnomes, 2019
Format
88pp
Picture book
Age: 5+
Material
Finnish PDF
English translation
Reviews
"Her inventive language and warm sense of humour are delightful… I adore this series!" — Lue meille äitikulta blog