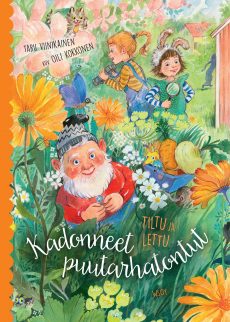 Publication date
2019
Publisher
WSOY
Format info
88 pages
Tiltu & Lettu and the Lost Gnomes
Tiltu ja Lettu: Kadoneet puutarhatontut
Hilariously funny stories about two sisters and their knee-high friends, the garden gnomes!
A serial thief is tormenting the neighbourhood! The sisters and Norbert, their grumpy garden gnome, decide to catch the culprit!
Norbert is upset. His friends have disappeared – and just as they'd made plans to bake together! Norbert's calls go unanswered and he grows increasingly worried. That's when sisters Tiltu and Lettu hear their neighbours complaining that someone has stolen their garden gnomes! Hilarity ensues when the sisters and Norbert join forces to solve the case of the missing gnomes.
Taru Viikainen (b.1983) teaches Finnish language and literature to high school students. Oili Kokkonen (b.1983) is a professional illustrator and artist.
Series
Tiltu & Lettu and the Garden Gnome, 2017
Tiltu & Lettu and the Seasonal Elves, 2018
Tiltu & Lettu and the Lost Gnomes, 2019
Format
88pp
Picture book
Age: 5+
Material
Finnish PDF
English translation
Reviews
"Her inventive language and warm sense of humour are delightful… I adore this series!" — Lue meille äitikulta blog