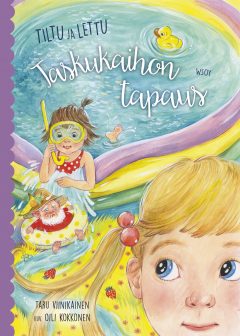 Publication date
2020
Publisher
WSOY
Format info
88 pp.
Tiltu & Lettu and the Pocket-Gump
Tiltu ja Lettu: Taskukaihon tapaus
Deliciously humourous stories about two sisters and their knee-high friends, the garden gnomes and elves.
Mum has entered their garden into The Most Beautiful Garden Competition and wants everything to look perfect, including the sisters' playhouse. Entering the playhouse to tidy up, Tiltu and Lettu stop on their tracks: such is the mess they see! They soon realise that there is something wrong with their friend Gnome. He is certainly not his usual grumpy self but positively glum to say the least! Gnome has been struck with a distressing elf-ailment called The Gump that makes gnomes and elves sick of elfing and gnoming. The cause of this ailment is the horrid Pocket-Gump that has made a nest in Gnome's pocket! To fix both their friend and the playhouse, the girls must find a way to get rid of the uninvited pest in the pocket!
Reviews
'The inventive language and warm sense of humour are delightful…  I adore this series!' – Lue meille äitikulta blog
'Reminiscent of Astrid Lindgren's Madicken…' – Luetaanko tämä literary blog
Material
Finnish edition
Format
88 pages
Age: 5+
Size 177 x 247 mm
Colour illustrated throughout
Tiltu & Lettu Series:
Tiltu & Lettu and the Garden Gnome, WSOY 2017
Tiltu & Lettu and the Seasonal Elves, WSOY 2018
Tiltu & Lettu and the Lost Gnomes, WSOY 2019
Tiltu & Lettu and the Weird Teacher, due in July 2021