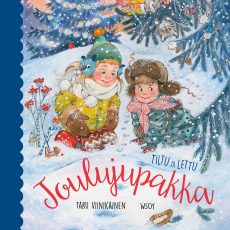 Publication date
2018
Publisher
WSOY
Format info
88 pages
Tiltu & Lettu and the Seasonal Elves
Joulujupakka
Hilariously funny stories about two sisters and their knee-high friends, the garden gnomes!
Christmas is fast approaching when the girls find out that Norbert is no longer the only gnome living in their playhouse: there are two others! Norbert assures the girls that this is a temporary situation… until Christmas. You see, garden gnomes work for Father Christmas over the festive season because the real elves are rushed off their feet! Afterall, a gnome and an elf are just about similar enough to fool anyone.
The girls are worried: Norbert… in charge of their presents! And what will happen to their cat, whose been wrapped up as a present for their neighbour?!
Taru Viikainen (b.1983) teaches Finnish language and literature to high school students. Oili Kokkonen (b.1983) is a professional illustrator and artist.
Series
Tiltu & Lettu and the Garden Gnome, 2017
Tiltu & Lettu and the Seasonal Elves, 2018
Tiltu & Lettu and the Lost Gnomes, 2019
Format
88pp
Picture book
Age: 5+
Material
Finnish PDF
Reviews
"Her inventive language and warm sense of humour are delightful… I adore this series!" — Lue meille äitikulta blog