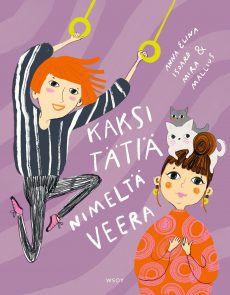 Publication date
May 2023
Publisher
WSOY
Format info
40 pages, ages 3-6
Two Aunts Named Vera
Kaksi tätiä nimeltä Veera
Warm-hearted picture book about two aunts, and three differently assembled families.
Ester and Viljami learn that they are to spend a weekend with their Aunt Vera. But which Aunt Vera will it be? The children have two aunts and they are both named Vera. To tell them apart the children call them Vera-Stripes and Vera-Dots as the two are very different from each other. Neither Vera has children of their own, but for entirely different reasons.
In Two Aunts Named Vera the aunts' lifestyle choices, and different family units are examined from a child's perspective and with gentle humor. Both Veras and the children love spending time together and being part of each others' lives.